Welcome at Ferretry Lelibel!
Ferret breeder since 2006
My name is Mette. I run a small ferretry in the Netherlands and breed with standard coloured ferrets from ferreting lineages. I have been breeding since 2006 and since 2009-2010 I decided to breed only with short haired standard ferrets:
Without fancy colors
Without Angora
Without hybrids / polecats
Ferretry Lelibel meets all the requirements of our breeder association; Dutch Ferret Breeders.

Lelibel.nl was intentionally designed to inform and help ferret owners, which, besides running my ferretry, is a big part of my goal. That part of the website has moved to fretteninformatie.nl, a Dutch information website about ferrets.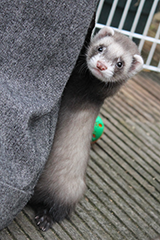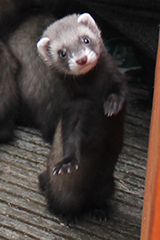 If you are interested in a kit, be sure to make a reservation in time; please introduce yourself by e-mail to recieve the reservation form instead of an intake for the nationals. I have a good reputation in the Netherlands, and therefore my reservation list is always filled quickly.

If you have any questions whatsoever, feel free to contact me.